Paulding County, Georgia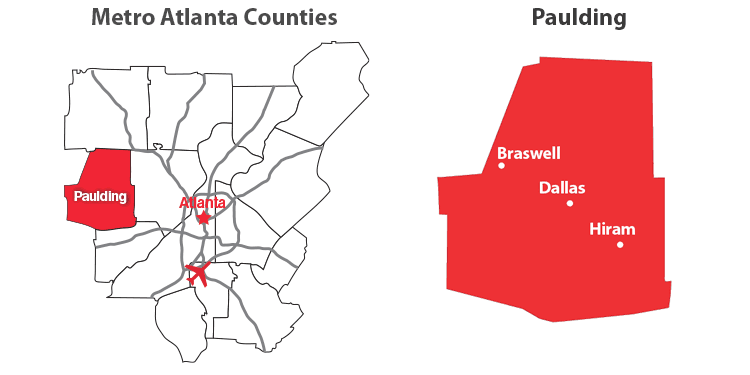 Paulding County's location provides the perfect balance of business and recreation opportunity. Located on the western edge of metro Atlanta provides easy access to airports, railways, and interstate highways, which are great for businesses; however, Paulding still possesses a relaxed, hometown feel.
The cities in Paulding County, Dallas and Hiram, take you back to a simpler time. The downtown areas provide small business opportunities and unique shopping experiences for visitors.
Our recreation opportunities are numerous with parks and ballfields throughout the county as well as vast areas of forests. One of our greatest recreational treasures is the Silver Comet Trail.
Major Employers:
WellStar Paulding Hospital
Publix Super Markets
The Kroger Company
Interroll MDR Conveyers
Walmart
Paulding County Main Attractions
1. Silver Comet Trail

2. Pickett's Mill Battlefield State Historic Site

3. High Shoals Falls

4. Moonlight Stables Equestrian Center
Paulding County, Georgia Demographics
Familes & Kids
Families 77%
With Kids 37%
Median Age
36
Total Population
164,044
Male 79,993
Female 84,051
Trendy / Hipster Factor
The Paulding County section of the Silver Comet travels through Hiram, behind the Paulding Chamber of Commerce in Dallas, through remote areas of the Paulding Wildlife Management Area, and heads west near Braswell to the Polk County line. This quiet, non-motorized, paved trail is for walkers, hikers, bicyclists, rollerbladers, horses, dog walkers, and is wheelchair accessible.
Paulding County Area Cities
With city limits in both Polk and Paulding counties, Braswell is a rural community of less than 500 residents that welcomes bicyclists, joggers and walkers along the Silver Comet Trail.
Paulding's county seat, Dallas is known for its quaint and friendly historic downtown community, as well as its reputation for being a great place to raise a family and start a business.
Hiram was established in 1891 as a rural railroad town but has progressed into a commercial corridor for Paulding County with a downtown business district that offers dining, shopping and entertainment.
Paulding County Services & Contact
ELECTRICITY
Georgia Power Company
georgiapower.com
Cobb EMC
cobbemc.com
GreyStone Power Corp.
greystonepower.com
Oglethorpe Power Corp.
opc.com

GAS SCANA Energy scanaenergy.com
Approved Natural Gas Marketers psc.state.ga.us, click "Natural Gas"

CABLE/PHONE/INTERNET Xfinity/Comcast xfinity.com AT&T att.com

WATER Paulding County Water paulding.gov
City of Dallas Water Department
dallasga.gov/utilities

DRIVER'S LICENSE Contact the Georgia Department of Driver Services to find the closest location. dds.ga.gov

PARKS Paulding County Parks & Recreation Department
paulding.gov

GARBAGE Paulding County Solid Waste Division
paulding.gov

LIBRARIES West Georgia Regional Library wgrl.net

TAG OFFICE
paulding.gov
Atlanta Georgia Metro Counties